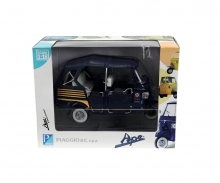 Article number: 510068007 Product: 1/18 IT PIAGGIO APE 50 Presidenziale Model Dim.: 165 x 80 x 100 mm Ape Calessino, expression of the "Dolce Vita" life – style relives the faithful 1:18 scale replica. Made with Die Cast technology, the model is composed of the metal body, frontal steering wheel and soft rubber tyres. Attention to details with accurate colors and decals. Officially licensed product made by Piaggio & C. S.p.A., available in different versions.
€22.49
Article number: 510015754 Product: 1:56 CROMWELL Mk. IV w/o Paint 100% NEW MOULD WWII BRITISH MILITARY VEHICLE (28 mm.) - EASY ASSEMBLY FOR GAMERS AND COLLECTORS The Cromwell was the first tank put into service by the British that combined a dual-purpose (anti-tank + anti-infantry) gun, the QF 75mm, with high speed and reasonably thick armour. The Cromwell used the same hull and turret as the earlier Cavalier and Centaur designs, but it came with a new Rolls Royce Meteor engine that gave it an impressive top speed of 67 Km/h. Its design formed the basic of the superb Comet tank. Undoubtedly, it was one of the most successful tanks of the "Cruiser Tank" philosophy fielded by Britain in the Second World War. Detailed Plastic Kit   Warning! Not suitable for children under 14 years.
€21.49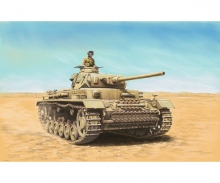 Article number: 510015757 Product: 1/56 Pz.Kpfw. III Ausf.J/K/L/M/N (28mm) 100% New Mould - Tanker included. Decals for 4 versions. 100% New Mould - Tanker included. Decals for 4 versions.
€19.99
Shipping Information
If you put these articles in your shopping cart, the shipping address of your order is restricted to the following countries: